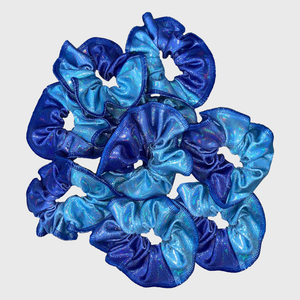 High quality + so pretty! ✨
I live for these scrunchies!!!! They have a great hold, not loose at all! The colours and sparkles are so fun as well! I'm in love!! I hope they come out with more colours in the future! 💕
Best scrunchie I've used 😍🤩
The scrunchies themselves are so pretty, both colours are beautiful, I love the ombre and the metallic!! The quality is amazing, you can tell the material is really durable. My hair ties definitely don't compare to these (especially for high ponytails!), it holds my hair really well. Excited to get some more!
High quality scrunchies, reasonable price
I bought two scrunchie sets and I love them! The fabric quality is really robust and durable, and the glittery, fish scale-like pattern is really mesmerizing (can't stop looking at it lol). The elastic is really strong and can hold up thick hair, even in a high ponytail. Although I'm not a gymnast, I'm glad I bought scrunchies specially designed for gymnastics because they are structurally a lot better than regular scrunchies.
---